The fast-moving wildfire in southern California has now reached the celebrity enclave of Malibu, forcing a number of high-profile stars to flee their homes.
Caitlyn Jenner is one of the celebrities worst affected, with her home in the Malibu hills completely destroyed by the flames, according to TMZ. Jenner had lived there since 2015. Last year Jenner told the College Republican National Committee: "I am all for getting out of the Paris accord."
The fire also reached the home of Jenner's former stepdaughter, Kim Kardashian West, although she tweeted to say the flames had become "more contained and have stopped at the moment".
Scott Baio, Rainn Wilson, Lady Gaga and Guillermo del Toro are among numerous other celebrities forced to evacuate their homes, in some cases hurriedly trying to arrange transport for their horses.
Kevin Smith, who directed Clerks and Dogma, has successfully managed to rescue horses in the area. He tweeted on Friday afternoon asking for "anybody near Malibu with a horse trailer" to help evacuate 40 horses from a farm. The Malibu Times reports all the horses are now in a safe location.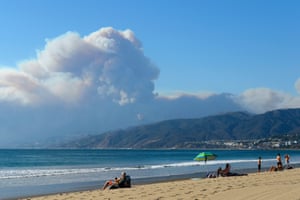 The Once Upon A Time in America actor James Woods has been on Twitter all day, attempting to provide advice to those in need and asking followers to create an informal registry of people missing in the separate wildfire in northern California under the hashtag #CampFireJamesWoods.
The ardent Trump supporter even reached out to Alyssa Milano, a prominent critic of the president, after she said her home was "in jeopardy" and she feared for her five horses. Milano ultimately got the help she needed and tweeted that her "horses are finally safe. My children are safe. My home is in jeopardy but … everything with a heartbeat is safe. Thank you all for your concern."
The back patio of the mansion used in ABC's The Bachelor is also on fire, with flames reportedly moving towards the main house.
The fast-moving wildfire also scorched a historic movie site known as Western Town, which has served productions as far back as the 1920 and was most recently used by the HBO series Westworld.
HBO said it did not know extent of the damage and expressed concern for "all those affected by these horrible fires".